Women's Suffrage Centenary Celebrations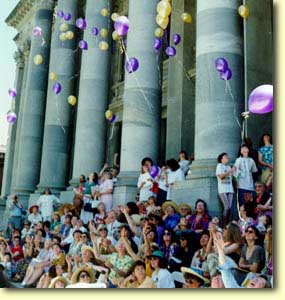 The year of celebrations begins on the steps of Parliament House in Adelaide. Photograph courtesy Rosey Boehm, part of the Women's Suffrage Centenary Secretariat archival record group SRG 534 in the State Library of South Australia.
If you want to get the flavour of the year of celebrations, look at an overview of the year's events. Or, if you want more of a taste of some activities, look at the detailed stories on 28 special activities shown below. Or, if you want a complete feast, check out the complete calendar of events. Setting the centenary year in the context of suffrage and beyond is the three waves of feminism.
These stories were prepared as press releases and stories by Rosemary Cadden, then with the Women's Suffrage Secretariat. The photographs accompanying these stories are by Rosey Boehm Photography.