Aboriginal women reveal hopes and dreams for future generations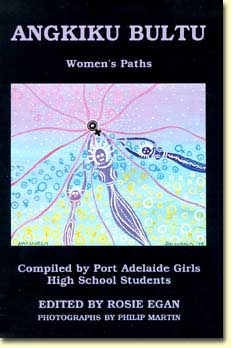 Thursday November 10, 1994 Media Release by Rosemary Cadden
The voices of 11 urban Aboriginal women in Adelaide telling powerful stories of their journeys through life have been recorded by a group of Port Adelaide teenage girls in their book Angkiku Bultu.
Angkiku Bultu (Women's Paths) not only records the lives of these women, it also examines their hopes and dreams for the future for themselves and generations of Aborigines to come.
The Year 12 social studies students from Port Adelaide Girls' High School who interviewed the women heard first hand accounts of racism and Aboriginal babies being taken from their mothers.
They also heard tales of happy days on the missions, encouragement to succeed and long-lost relatives discovered.
The book, to be launched at Port Adelaide Girls' High School today (Thursday) by Shadow Minister for the Status of Women Carolyn Pickles MLC, was funded through the community grant scheme established by the Women's Suffrage Centenary Steering Committee.
Most of the women featured in the book will attend the function.
Alice Rigney, now Principal at Kaurna Plains School, and a speaker at the launch, tells in the book her story of life on the mission at Point Pearce where the white community lived at one end and the Aboriginal community lived at the other.
"It is important to know your background to get your direction for the future," she said.
"With this book, we have a collection of histories reflecting the breadth and width of Aboriginal communities."
"I think information is vital if our kids are going to find out where we come from and where we are heading."