> View our Catherine Helen Spence Library Guide for more information.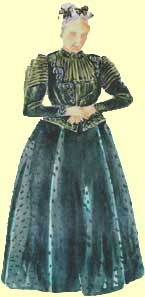 Catherine Helen Spence is one of the most important women in the development of South Australia, and of Australia generally. The Centenary of Women's Suffrage brought a greater awareness of her life's work, but she is still a figure less generally known than her achievements merit, as detailed in her achievements and firsts.
"South Australia was fortunate to have in its earliest days a woman far in advance of her time and of a remarkable range of interests and sympathies—Catherine Helen Spence. She came to South Australia from Scotland in 1839 when she was 13 years old. Her work for political and electoral reform is still having its effect on the life of the nation"— so said Ann Milne in 'Figures in an education landscape' in Pivot: a journal of South Australian education volume 2 number 3 of 1975.
For nearly sixty years she wrote for South Australia's daily newspapers in which she was an outspoken critic of the community and a loud advocate for democracy and justice, seen for example in a paper on charity in South Australia. She helped transform the South Australia she loved from a pioneer backwater into a respected progressive colony. Her name was a household word in her time. After her death she was praised as the 'Greatest Australian Woman' and dubbed 'the Grand Old Woman of Australasia'.
Her great passion was "effective voting" and her commitment to eletoral reform is evidenced today by the electorate of Spence named after her. In order to further the cause of effective voting she was the only woman to play a role in Federation, becoming the first female political candidate in Australia as seen in a how-to-vote card for the 1897 Federal Convention in Adelaide. The response to the question Why didn't she stand for Parliament? makes interesting reading.
The State Library of South Australia holds the Catherine Helen Spence personal papers in Archival Private Record Group 88. There is a comprehensive series list for this large and important archive, most of which is handwritten. This important material has been microfilmed, and, as a general rule, researchers will be supplied with microfilm to consult. Catherine's handwriting is extremely difficult for us to read today, unused to such script.