Outwork information kit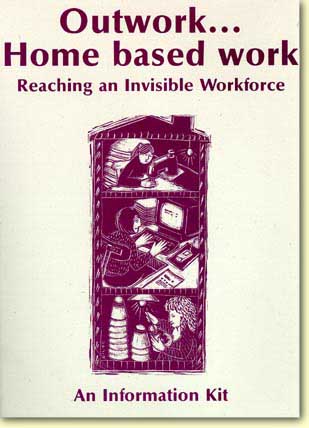 This Outwork information kit, held in the Mortlock Library of South Australiana, aims to reach "an invisible workforce" and to increase awareness and knowledge and so contribute to the improvement of working conditions for all outworkers. Its contents cover:
What is outwork?


Who does outwork?


Common outwork experiences


Occupational health and safety and outwork


Rights of outworkers


Helpful actions for outworkers


An outworker story


Who can assist outworkers?


Consumer action and outwork


Outwork illustration

An information sheet on "What's behind the label?" talks about the Australian Fair Wear campaign which highlights clothing manufacturing practice which identifies those companies which have signed the Homeworkers Code of practice, and encourages consumers to be active in supporting Fair Wear companies.
A pamphlet in several community languages addresses "The role of the Employee Ombudsman: some common questions and their answers". A booklet in several community languages provides "Tax information for the clothing industry".