Augusta Zadow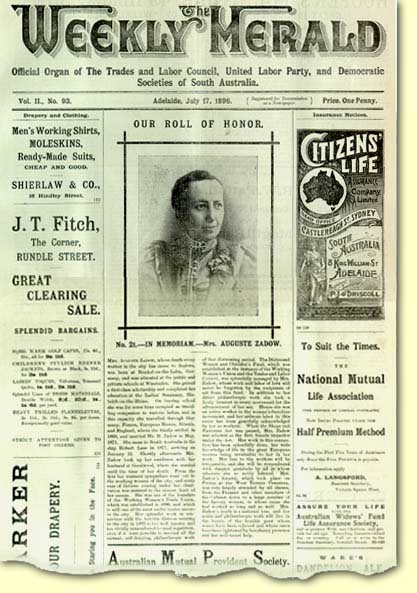 A glowing tribute to the worker's friend Mrs Augusta Zadow appeared in The weekly herald: the official organ of The Trades and Labor Council, United Labor Party and Democratic Societies of South Australia of 17 July 1896. This tribute was number 21 in the series 'Our roll of honor'. Following this is a poem written by Walter Dollman Jnr of Parkside.
A pamphlet by Christine Finnimore A woman of difference: Augusta Zadow and the 1894 Factories Act was published by the Workcover Corporation in Adelaide in 1995, as its contribution to the Women's Suffrage Centenary celebrations, and a copy is held in the Mortlock Library of South Australiana.
IN MEMORIAM—MRS. AUGUSTE ZADOW
Mrs. Auguste Zadow, whose death every worker in the city has cause to deplore, was born at Runkel-on-the-Lahn, Germany, and was educated at the public and private schools at Wiesbaden. She gained a first-class scholarship and completed her education at the Ladies' Seminary, Biebrich-on-the-Rhine. On leaving school she was for some time occupied as travelling companion to various ladies, and in this capacity she travelled through Germany, France, European Russia, Siberia, and England, where she finally settled in 1868, and married Mr. H. Zadow in May, 1871. She came to South Australia in the ship Robert Lees in 1877, arriving on January 11.
Shortly afterwards Mrs. Zadow took up her residence with her husband at Goodwood, where she resided until the time of her death. From the first her warmest sympathies went out to the working women of the city, and every case of distress coming under her observation was assisted to the utmost limit of her means. She was one of the founders of the Working Women's Trade Union, which was established in 1890, and which is still one of the most useful trades unions in the city.
Her splendid work in connection with the terrible distress existing in the city in 1893 is too well known and too vividly remembered to need repetition, even if it were possible to recount all the earnest, self-denying, philanthropic work of that distressing period. The Distressed Women and Children's Fund, which was established at the instance of the Working Women's Union and the Trades and Labour Council, was splendidly managed by Mrs. Zadow, whose work and labor of love will never be forgotten by the recipients of aid from this fund.
In addition to her direct philanthropic work she took a lively interest in every movement for the advancement of her sex. Hence she was an active worker in the woman's franchise movement, and her arduous labor in this cause has been gratefully acknowledged by her co-workers. When the Shops and Factories Act was passed, Mrs. Zadow was selected as the first female inspector under the Act. Her work in this connection has been splendidly done, her wide knowledge of life in the great European centres being invaluable to her in her work.
Her loss to the workers will be irreparable, and she will be remembered with deepest gratitude by all in whose interests she so nobly labored. Mrs. Zadow's funeral, which took place on Friday at the West Terrace Cemetery, was very largely attended by all classes, from the Premier and other members of the Cabinet down to a large number of the factory women, in whose cause she had worked so long and so well. Mrs. Zadow's death is a national loss, and her noble and philanthropic work will live in the hearts of the humble poor whose wants have been relieved and whose cares have been lightened by her cheery presence and her well-timed help.
IN MEMORIAM
Mrs. A. Zadow, who died July 7, 1896.
Beloved and respected of all. WALTER DOLLMAN, JUN., Parkside
Only a woman, she,
Yet wondrous worth
Her true humanly
Deeds on earth.
Friend of the friendless;
While in rich store
Love, that was endless,
Shed o'er the poor.
True each word and act,
Tender each thought;
With pure zeal and tact
Each deed was fraught.
No vain thought of self
E'er filled her breast,
No dream or sordid pelf,
No plea for rest.
None on this paltry earth
Could give reward,
None could compute her work
Save her Lord.
Treasure the thought of her,
Always so true;
May goodness wrought by her
Now find its due.