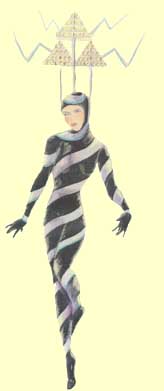 Thelma Thomas was born on 1 December 1908 at Broken Hill in New South Wales, and was trained in art in Adelaide, teaching secondary school art from 1955 to 1978. Her career as designer started with the avant-garde Ab-Intra Studio Theatre in Adelaide. In 1938 she married playwright Max Afford and settled in Sydney. She also designed for film and television. Other major collections of her designs are held in the Mitchell Library of the State Library of New South Wales, and the Fryer Library of the University of Queensland. (Biographical details from the Companion to theatre in Australia, general editor Philip Parsons with Victoria Chance (Sydney, Currency Press in association with Cambridge University Press, 1995)).
In 1936 South Australia celebrated the centenary of its founding. The state government sponsored four official centenary celebration functions. these were
Heritage, a theatre pageant production

Colonel Light the Founder, by Max Afford

The Pageant of Progress

The Landing at Glenelg and the Proclamation.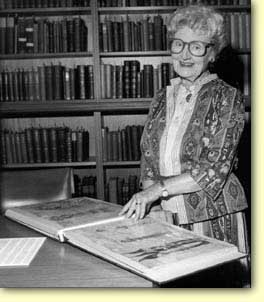 Thelma Thomas Afford was the official costume designer for these 1936 productions, and on this website are some of the costume designs she created. All are from Heritage or the Pageant of Progress. The designs included period costumes of different eras and styles of the 19th century and also symbolic, interpretative and fantasy costume designs.
The recollections of the producer of Heritage Heather Gell and of the scriptwriter Ellinor Walker go into detail about Thelma Thomas' work and her role in the production.
The State Library of South Australia's Thelma Thomas designs are held at PRG 689/1. Each design has a filing item number, sometimes a plate number, the name of the character or style the design represents, and the name of the person who played the character. Complete details are shown here only for the design used on the Women & Politics in South Australia home page. Brief details only are shown for the others. Further detail is shown on the originals. These items may be identified by the miniatures shown on the original graphics page.
Item 18 (plate 88) 1st Suffragette
Hat: black flowerpot and sprays of wisteria and blue grey veil. Bodice: black velvet. Overskirt: draped black velvet ruching bustle. Skirt: black and grey stripe and ruching on bottom. Gloves: lavender or grey.
Item 19 (plate 121) 1890 Nurse
Item 21 (plate 132) Helen Spence
Item 22 (plate 90) 3rd Suffragette
Item 27 Sturt Pea
Item 34 Morse Code Overland Telegraph
Item 35 Justice
Item 36 (plate 58) Freedom
Item 47 1815-29
Item 50 (plate 92) 5th Suffragette 1890s Hard Bustle
Item 51 1820s Neo-classical influence
Item 55 (plate 89) 2nd Woman's Vote 1880-1890s
Item 61 Barley Sugar
Item 62 Spring