Dame Nancy Buttfield—first South Australian woman in Parliament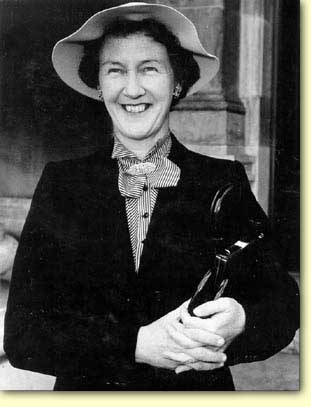 Dame Nancy Buttfield was a pioneer—the first South Australian woman in an Australian Parliament. She is seen here on the steps of Parliament House in Adelaide upon her appointment to the federal Senate in 1955 looking ebullient and ready for action. This photograph is one of around 70 stunning photographs presented to the Mortlock Library of South Australiana by Dame Nancy—part of her personal papers in Private Record Group 1161. Other items include personal diaries for the period 1928 to 1933. (As a Federal Senator, Dame Nancy's parliamentary related papers have been deposited with the National Library in Canberra.)
The Mortlock Library holds a number of sound recordings involving Dame Nancy, either as interviewer or interviewee in the J.D. Somerville Oral History Collection.
Philip Satchell interviewed Dame Nancy Buttfield and Ron Danvers as part of a radio program about the Great Houses of Adelaide on Radio 5AN in 1995, talking about 'Kalymna'. The informal series was produced as part of Philip Satchell's Tuesday afternoon radio program. The segments typically involved an historian or older member of a prominent South Australian family associated with a significant Adelaide house speaking with Philip Satchell in the studio. (OH 300/4)
Paul Linkson and Nancy Buttfield interviewed American librarian and historian Dr Parquellis who was visiting Australia on a fellowship to advise the National Library of Australia on the development of its Americana collection. the interview was broadcast on the 5DN radio program 'Fair Go' hosted by Paul Linkson and Nancy Buttfield around 1966. (OH 427)
Paul Linkson and Nancy Buttfield interviewed Hedley Brideson, State Librarian of the State Library of South Australia, for the 5DN radio program 'Fair Go', broadcast on 28 September 1967. (OH 142/2)
A recording of Women in Politics: A Forum in the Centenary Year of Women's Suffrage presented by the State Library of South Australian in conjunction with the South Australian Centre for Australian Studies and the Constitutional Centenary Foundation. South Australian women from government and politics spoke about the historical perspective of women in parliament; a pioneer woman in politics; the inside story of South Australian politics; women presidents of political parties; and a survival guide for women in politics. Dame Nancy Buttfield was one of the subjects. The forum was held in the lecture theatre of the Institute Building, North Terrace, Adelaide and was recorded on 21 September 1994. (OH 142/21)
Dame Nancy: the autobiography of Dame Nancy Buttfield assisted by June Donovan, (North Adelaide, N. Buttfield, 1992) is held in the Mortlock Library.
The Mortlock Library also holds the papers of the Liberal Party of Australia. SA Division 1900-1988 as Society Record Group 168. These include copies of Dame Nancy Buttfield's scrapbooks. Recently donated are newspaper cuttings relating to, and reports of parliamentary speeches by the first four South Australian women politicians, assembled by the Women's Council as a Women's Suffrage Centenary project. These relate to Dame Nancy Buttfield, Kay Brownbill, Joyce Steele and Jessie Cooper. Written permission is required from the Liberal Party to consult its records, which include minutes, subject files, electoral papers, membership lists, reports, press cuttings, posters, publications, diaries, letters, photographs, manuscripts records of the Liberal Club Ltd and of the Young Liberal Movement.
The following extract from the chapter on Dame Nancy's life, ' There's nothing like this Dame ', has been adapted from Stewart Cockburn's book Notable lives: profiles of 21 South Australians (Adelaide, Ferguson Publications, 1997) with kind permission of the author and of Dame Nancy. The book is held in the Mortlock Library of South Australiana.
There's nothing like this Dame
"Adelaide's Register newspaper announced the birth of Nancy, second daughter of Ted and Hilda Holden, on November 12, 1912. Ted, later Sir Edward, Holden, recognised as the primary founder of the Australian car industry, was on the way to becoming one of South Australia's richest men. His new daughter was born to a privileged life. Indeed, if she had chosen, she could have spent her entire life indulging her personal whims and pleasures.
Instead, having inherited her father's leadership gifts and his resolute belief in the obligation of public service, she was to become South Australia's first female Member of Parliament, serving as a Senator for sixteen and a half years. Today, as Dame Nancy Buttfield, she is 84 years old and still going strong, despite severe health problems which would all but have crushed a person with less courage and stamina.
For 61 years, she has been happily married to retired businessman and company director Frank Buttfield. She says he has been 'a key factor in any success I have enjoyed.' They have two sons and five grandchildren.
Dame Nancy's recollections of life in the grand family home 'Kalymna' on Dequettville Terrace, Kent Town evoke images of a bygone age. She recalls, for example, how Dame Nellie Melba stayed with them during the last of her farewell concert tours of Australian in 1927.
Physically and intellectually energetic, Nancy Holden worked for many charities during the Great Depression and studied psychology, music, logic and economics part-time at Adelaide University. Later, when her sons were growing up, she enrolled with them for carpentry lessons at the then School of Mines and Industries. She 'finished up making a step ladder, a desk and an entire wall of wardrobes.'
R G Menzies was a friend of her father's and as a schoolgirl she played table tennis with him at 'Kalymna'. Later, she joined a Model Parliament whose predominantly male members met in the Christadelphian Hall near Holden's city factory. This whetted her interest in politics and she sought advice about a possible parliamentary career from Menzies himself. 'Well', he told her 'you'll have to join a branch but the Party machine will drive you mad.' Menzies' prediction about the Party machine proved correct but, as a Senator, Nancy Buttfield turned the tables and, in turn, drove the Party machine mad, too.
She took his advice and in 1954 won Liberal Party endorsement to contest the federal seat of Adelaide, then held for Labor by Adelaide dentist Cyril Chambers. She beat Young Liberal Robin Millhouse, now Justice Millhouse, by one vote for the nomination. She was defeated at the poll, but achieved a 3% swing to the Liberals in what was then a safe Labor seat.
The following year, after the sudden death of Senator George McLeay, she was nominated by State Parliament for the vacancy thus created and so realised her political ambition.
All her life Nancy Buttfield had been at ease in the company of prominent men and women—Sir Donald Bradman, Sir Douglas Mawson, Russian ballet dancer Anna Pavlova, BHP Boss Essington Lewis were among notable visitors to 'Kalymna'. During her parliamentary career she met distinguished international leaders including Madame Chiang Kai Shek, India's Pandit Nehru and many others. So she was thus quite undaunted by the prestige and pretensions of her colleagues in the parliamentary Liberal party in Canberra. Any evidence of what she considered male prejudice was met head on.
Nevertheless, it took the support of Prime Minister Menzies to sanction her right to drink at that shrine of male chauvinism, the Members' Bar at Parliament House. 'That's where politics are discussed', Menzies said to her. 'Certainly you should have the right to drink there. It's a Members' Bar and you are a Member.' Dame Nancy recalls: 'So, to the horror of my male colleagues, I duly fronted up there.'
Throughout her several terms in the Senate between 1955 and 1974, she never shrank from speaking her mind publicly about some of her fellow politicians. Her independence even put her off-side with South Australian Premier Tom Playford, who regarded South Australian Senators as obligated to support his policies and initiatives whenever they clashed with those of the Federal Liberal Party. Nancy Buttfield didn't always see it that way and suspects that Playford, no feminist, engineered her downgrading on the Liberal ticket for the 1965 Senate election.
In 1962, with other women Senators, Dame Nancy lobbied the Prime Minister on the issue of equal play for women and the abolition of the marriage bar against women in the Public Service. But this harmed her with her Party.
ABC television commentator John Temple summed it all up in these words: 'She is a hard worker, a getter of things done. She is given to having ideas. This is all very disturbing for the kind of politician who thinks fire in the belly is something you take a pill for.'
Ironically, one of her friends and admirers today is former Labor Party power broker Clyde Cameron, who accepted her invitation to write the foreword to an autobiography she published in 1992 under the title Dame Nancy. She had been elected to Parliament, he wrote, 'at a time when the Parties (but not the electors) seemed to prefer a second-rate male to a first-rate female.'
Nearly 40 years ago, another of her 'firsts' while in parliament was to become the first woman Senator to visit the Soviet Union at a time when the Cold War was still raging. Despite being a convinced and known anti-Communist, she also got special permission in 1962 to visit Mao Tse Tung's China by writing to Premier Chou En-lai. She crossed the Chinese border from Hong Kong and travelled alone by train to Beijing. She was the only Anglo-Saxon aboard and whenever she got out on to a platform to stretch her legs, 'People would fall back as if I had the plague and would glare at me. It was, of course, rather frightening.' Other dangerous journeys—on five occasions—were undertaken to Papua-New Guinea, where she crossed raging torrents by flying fox, and visited remote mountain tribes.
Retirement for the Buttfields has been in name only. After she left the Senate, Dame Nancy and her husband Frank devoted themselves for more than ten years to the establishment of a Youth Venture Club so that young people could experience the delights of the countryside and simultaneously develop leadership skills in a minor Outward Bound atmosphere. They developed the club on 'Fainfield', a property they owned at Chain of Ponds, where activities included bush walking, horse riding, archery, canoeing and kayaking on a large dam. Something like 10,000 boys and girls made use of its facilities.
One of her latest exercises in philanthropy has been the $60,000 endowment of the Dame Nancy Buttfield biennial prize for the decorative arts. Open to all Australians and all age groups, it offers a biennial prize of $5,000, as well as several scholarships for children to learn basic skills in handicraft work ranging from carpentry and wood carving to embroidery, pottery, silver and glass. Today, Dame Nancy uses a computerised sewing machine to pursue her favourite hobby of embroidery.
It has been an incredibly crowded life for both the Buttfields. Sadly, Dame Nancy is left with mixed feelings about the Australian political scene. 'The media have made today's politicians lazy,' she says. 'They know they must have a televised image to succeed and many of them are more image than substance. Modern politics increasingly lacks statesmanship. Debate has become a matter of insult, abuse and point scoring rather than a means of trying to resolve important national and local issues in calm and careful ways by sensible discussion and negotiation.' "