Lowitja O'Donoghue—Elder of our nation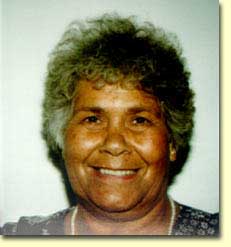 Dr Lowitja O'Donoghue is a remarkable South Australian. The following extract from the chapter on her life, 'Elder of our nation', has been adapted from Stewart Cockburn's book Notable lives: profiles of 21 South Australians (Adelaide, Ferguson Publications, 1997) with kind permission of the author and of Lois O'Donoghue. The book is held in the Mortlock Library of South Australiana.
Also held in the State Library of South Australia is a videorecording of an interview with Lowitja O'Donoghue in which she discusses her life and her work as an administrator in Aboriginal affairs. The interview was conducted by Robin Hughes and produced by Frank Heimans (Lindfield, NSW, Film Australia, c1994). It can also be accessed on the Australian Biography website.
Lowitja O'Donoghue delivered the Australian Library Week Oration on 29 April 1998 at Tandanya Aboriginal Cultural Institute. This signifant address to a national forum addressed the importance of high quality library and information services to indigenous Australians.
Elder of our nation
Lois ('Lowitja') O'Donoghue, CBE, AM, one of the most admired and influential Aboriginals in Australian history, has come home to the state where she was born. She has bought a house in the western suburbs of Adelaide, she has many friends and relatives here, and she plans to continue her life-long career as a speaker, writer, mover and shaker on behalf of her people.
In 1995 she was seriously considered by Prime Minister Keating for appointment as Governor-General of Australia. She was chairperson of the Aboriginal and Torres Strait Islander Commission in Canberra from 1990 to 1996. Her formidable list of honors and achievements includes honorary doctorates from five universities. She is an honorary fellow of the Royal College of Nursing in Australia, was Australian of the Year in 1984, and won an 'SA Great' award in 1992.
In 1993 she was a leading member of the Aboriginal team which negotiated with the Federal Government the agreement which provided the basis for the Native Title Act. She led the Australian delegation working on the proposed United Nations Declaration of Rights for Indigenous People and was the first and only Aboriginal person to address the UN General Assembly in 1993.
To go back to her beginnings —
In August 1932, Lois O'Donoghue was a bright-eyed brown-skinned infant newly born into the Yankunjatjara tribe in the remote North-West Reserve of South Australia. Her mother was a full blood of the tribe, and her father the owner of a pastoral station which later passed into the hands of the McLachlan family. This was not a casual relationship and Lois is the youngest of five children born to the same parents.
In 1934, members of the frankly paternalistic United Aborigines' Mission visited her Yankunjatjara tribe at Indulkana, 200 miles north of Coober Pedy. They persuaded her mother it would be best for the child to be brought up at the Mission's Home for Children at Quorn. Without in any way approving such a policy, Lois acknowledges that she had a happy childhood there, and later at the Colebrook home at Eden Hills.
But the cruelty of the policy in most of its aspects has now been openly and publicly acknowledged by the Churches which administered it and when Lois grew up it steeled her resolve to achieve something in the political arena to help ensure that Aboriginals like her mother never had to suffer like this again.
Lois' remarkable career has helped explode an old, convenient but false white prejudice. She (and many others) have demonstrated that, given a fair go, Aboriginals can not only be fully integrated (not 'assimilated') into white society in one generation, but can assume comfortable and undisputed leadership roles in that society in one generation.
She gained her Intermediate Certificate and studied to Leaving level at Unley Girls' Technical School but, 'frightened she might fail', chose not to sit for the Leaving examination. She now realises her fears were probably groundless.
She wanted to become a nurse, but ran headlong into racism. The Royal Adelaide Hospital refused her entry into its training course because of her Aboriginal descent. 'Go back to the place where you belong', she was told. 'I suppose that was when I first really got my blood up', she says. 'It was completely unjust. I was deeply resentful and determined I wouldn't accept the decision.'
She met the well-known champion of Aboriginal causes, the late Dr Charles Duguid, joined the Aborigines' Advancement League and helped in a campaign which resulted in her being accepted in 1954 as one of a number of Aboriginal trainee nurses at the Royal Adelaide Hospital.
From then, she never looked back. She graduated in 1954, was in due course promoted to charge sister, had a year in Assam, India, with the Baptist Overseas Mission, and joined the Department of Aboriginal Affairs in 1967. In 1975, she was appointed its regional director in South Australia.
The now retired secretary of the department, Mr Barrie Dexter, told me the other day: 'I had the privilege of choosing Lois and appointing her on the basis of her ability and without any reference to her Aboriginality. I believe she was the first woman to head any Federal regional office. She enjoyed the full confidence and support of our regional staff and from her unique perspective she gave a special quality to the administration of Aboriginal affairs in South Australia.'
I wondered aloud whether Lois regretted having had no children. 'No, not at all', she said. 'I resolved very early in life that I wouldn't marry or have children because I saw my life as being totally dedicated to working for the betterment of my people. Of course, I weakened when I was 47 and Gordon Smart came along. He was a medical orderly at the Repatriation Hospital. He was a few years older than me and he accepted that my demanding career had to continue. It was a happy marriage, but he died in 1991. He's buried at Quorn and when my own time comes I shall be buried beside him.'
Lois says she has tried to avoid 'confrontationist politics', not least because she has never hated white people, and she thinks she has achieved more for the Aboriginal cause by appealing to people's reason: 'Hatred isn't a very healthy emotion. I've had to bite my tongue often because I'm naturally angry when we are badly treated. But I don't often lose my temper. Even those Aboriginals who accuse me of being too conciliatory during negotiations say they respect me though they don't agree with me always.'
Even in the face of disagreement, it would be hard not to respond to Lois O'Donoghue's undoubted charm, her warmth and her delightful sense of humour. Those qualities are balanced by an inner strength and determination that make her a formidable advocate for her people.
I asked Lois how she thought individual white Australians could best participate in the reconciliation process. 'I think', she said, 'that there's a basic goodness in the Australian community. I believe there is a widespread and genuine wish and willingness to come to grips with the process of reconciliation. One way of helping is for as many people as possible to join study groups — to study history and learn what Aboriginals have gone through and how they were dispossessed.'
'We're not on a guilt trip here. I'm not on about trying to make people feel guilty. But there needs to be a general acknowledgment of what has happened and that acknowledgment should be expressed in some sort of document.'
'Our involvement with indigenous people around the world has shown that documentation of their rights exists in many other countries. New Zealand, for example, has the Treaty of Waitangi. In Canada and the United States there are also written Treaties. South Australia's Pitjatjantjara Lands Act is so far the only document of the kind. It returned their lands to the ownership of the Aboriginal people in 1981.'
'We then have something on the table about which we can negotiate. At the end of the day the situation must be formalised, and the rights of the first Australians codified.'
When I asked who had most influenced her life and her thinking, Lois' reply was swift: 'Martin Luther King, Nelson Mandela and Archbishop Tutu. They have always been a source of inspiration to me. So was Don Dunstan when he was Premier and, of course, Paul Keating. The Fraser Government passed the Land Rights Act and Malcolm Fraser has always been supportive. Malcolm's door was always open.'
When you ask her what has kept her going, she replies: 'Despite my Christian education when I was young I'm not a church goer. But like most Aboriginals I feel in harmony with the land. There is a spirituality which flows from that and I draw on it when the going gets hard. It helps me to overcome despair in the same way, I suppose, as their faith helps practising Christians in the crises of their lives.'
And she quotes from black American poet Alice Walker:
I would give
to the human race
only hope.

I am the woman
offering two flowers
whose roots
are twin.

Justice and Hope
hope and Justice
Let us begin."